DON'T MISS THE LAST PARAGRAPH OF THIS POST…PLEASE.
Dr. Suresh continues to give pairs of goats to needy families. This is just one of many stories he can tell.
Here is his report:
"As I deliver another pair of goat, I came to know about a man 32 years of age from a Korku community.  I have been to this village many times.
After hearing his story from chief leaders of the village, I felt that I should meet him. This village has two parts; Balca living in other part of the village, which is called "Aakhar" and that, is why I never met him before. So I go to meet Balca and his wife living in a hut made out of grass and cow-dung mud.  They are living in a very poor condition.
Somehow his wife manages to bring money in home by working in farms for whole day. Balca is not capable to work as he lost his one hand in thresher machine 5 years back.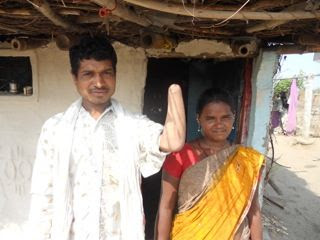 He used to work on that machine.  It took whole year to recover from injury and at last after recovery he lost his job.  Since then he is unable to work as a laborer.  So his wife decided to find some job and since then she is working as a laborer in farms.
After 5 years of marriage they don't have any children as the wife has some problem in her reproductive system. They don't understand and keep taking village medicine for this.  In my short visit I just encourage them to see a specialist in Nagpur. They requested my help in it and I will help them for proper diagnosis and treatment.
After meeting them I confirmed that Balca is the perfect man who should get this project so he should get some work of grazing his own goats and I am sure his neighbors will also find easy to send their goats with him for grazing and thus he will be getting work and money too.
I arranged for transportation and delivered goats to this couple.  When I saw their happy faces I heartily felt joy and I praise Holy Spirit for His guidance in it.  I think with this project we lightened one more poor needy families life. For thanking me both of them folded their hands, but I realize it was from the bottom of their heart.
I know this thanks goes to Prakash 4 India and the ones who gave money for this project. I am too grateful to you for helping Vet Med for such community development projects.  Which really brings transformation in these villagers' lives."
Since we left India a month ago, Prakash has come under some tremendous persecution. Loren has worked extremely hard and MANY hours to help provide the Indian Government with information to combat this harassment. Our staff is scared. We desperately need your fervent prayers. Our belief is that God will bring glory to his name through all of this experience and that these men will see Jesus in the attitude and the cooperativeness of our staff.