Easter Sunday evening (Indian time) one of our dear pastors with Prakash for India suddenly went to be with the Lord. WOW, what a glorious day to meet our Savior. I asked several of our staff to give a report with pictures of the incident and funeral. This is our eulogy to this faithful servant. I know this is a long Journal, but well worth reading.We have many good memories.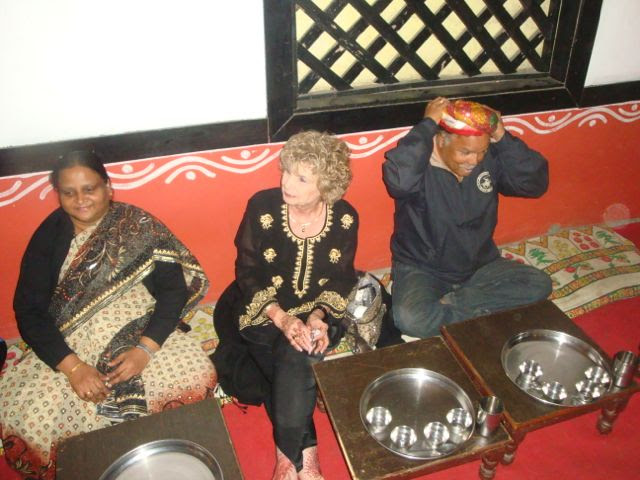 On a personal note, Sahebrao was always dear to my heart due to the fact that he literally saved Loren's life in 1978. Loren got heat stoke while in India. Sahebrao was a student at Prakash and took it upon himself to sit 24/7 by Loren's bed and administer the prescribed medication. Without Sahebrao's dedication, Loren would certainly have been sent home in a pine box.
Nupi's report:
Yes, everyone is in a state of shock.  We couldn't believe our ears when we got the news at about midnight Easter Sunday night.  We got up and got into the car and reached the hospital where Sahebrao was taken.  We met Tara, (his wife) Jane (daughter) her husband and few church members who were at the hospital.  Everything was so sudden; he was not ill or anything.
On Easter Sunday he baptized four people in the morning, and then they had Easter worship service and lunch.  Most of the church members were at the church till about 6pm and then they left after Sahebrao prayed for them.  He had dinner at night and felt a little nausea, walked for a while but when he vomited Tara called the neighbors and they come to their house.  The neighbor is from medical background, a non-Christian who quickly put him in the car and rushed him to the hospital. They did not even wait for Tara to change clothes but Sahebrao died before reaching to the hospital.  This is very shocking for everyone, hard to accept because we have all seen him upbeat, active all along.  All of the church members, and Prakash staff gathered in the night as everyone got the news.  Jane (his daughter) was in Nagpur, Sony (his daughter) reached on Monday morning.
The funereal took place on Monday. Padmakar (a Prakash for India church pastor) conducted the funeral. Many people attended…people came in from all over the places.  There was a prayer meeting at the church on Tuesday evening to give condolences to the family and celebrate Sahebrao life and his contribution in people's lives.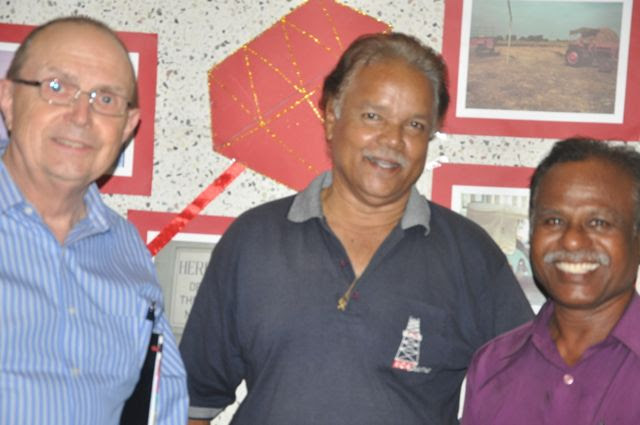 Pramod, (another Prakash for India church pastor) was the master of ceremony and Padmakar shared the Word of God.  Many people shared their experiences as to how he had contributed in their lives.
People recalled:
I have seen him since my childhood we were together in the orphanage, shared all ups and downs of life including hunger, sickness and everything.  
God chose him to be a blessing to others.
Since then always cared for the sick, poor, orphans and the hungry.  No one left without food from his house.
He rushed to take the sick to the hospital irrespective on the time be it day or night.
He put many orphans in the orphanages, helped people to get admissions for their children in schools.
He always encouraged all his church members to save and be prepared for the future. 
He intervened when couples in his church had family problems and helped them to reconcile.
He encouraged other pastors to look up to the Lord saying, "pastors life is always full of challenges and suffering but you should not worry."
He was a very loving father to his daughter was on their side in every situation of their life.  He treated his entire church members equally as his own children.
When one of his church members' vehicles was stolen and he had to walk to work Sahebrao went to his house and gifted him his own motorcycle.
He was a good travelling partner to Padmakar and both of them attended many conferences together and had fun travelling and being together.
He distributed food to the homeless on the street. 
He faithfully conducted VBS and distributed tracts to the unreached every year.
His desire was to train a young man from his church to take over the ministry from him in the future.  He was actively making efforts to help him get admitted in Bible College this year.
I mean people have many fond memories of him and his faithful service to the Lord.  Each person has experience of the love of Jesus being shared by through Sahebrao life.  I may not be able to put it in words properly because this is a report that is VERY difficult to write.
Nagesh's report:
I still don't believe that he is no more. I was really shocked when Suresh called me in the night that Sahebrao is no more. I told Suresh not to make fun of him. I was in deep sleep I could not believe and I was speechless and could not talk much. I immediately went to Suresh's house. Everyone also immediately rushed to the Hospital.
We helped them to bring the body from the hospital. When I inquired about how this happened then I came to know that they had nice Easter Fellowship Lunch and then they talked to each other and in the evening. Sahebrao talked to his three to four families and encouraged them not to depend on him but to stand on their own feet. Keep saving and teach your children how to depend upon the Lord. How long will I continue to be with you? Today I am here but tomorrow I may not be so need to learn to trust the Lord. You need to take care of your children. Save money for their future. Stand strong in the Lord.
People said that he had never ever spoken some of the things before, and he never did share personal life with them before but that day he poured out his heart to them. People say that usually he makes fun and cracks jokes but that day in the evening he was very serious in his talk. Another thing people said that earlier he never prayed for them before them leaving but that day he told them that he would like to pray for them before they leave his house. So he prayed very seriously.
As usual in the evening after he had his dinner he was walking outside. And he was not feeling good so he came back and one of his neighboring Doctor saw him. He started vomiting and then Doctor told him to take him to the Hospital so his neighboring Doctor and his driver and Sahebrao went to Hospital but before reaching the hospital he died on the way. Did not know how he died could be massive heart attack. He did not have any chest pain when he was vomiting
This sudden death of Sahebrao has taught us that life is not in our hands anytime God can call us and we need to be ready.
Moses' report:
It seems that since Sunday at around 10: 30 or 11: 00 pm in the night he became very restless and called his neighbor who is a doctor for checkup but sensing the seriousness the doctor suggested him to go to the hospital.  Sahebrao told his driver to bring the car and take him to the doctor but till then he was talking very normal though he was experiencing uneasiness in his body.  Doctor (neighbor) too sat with him in the car and they immediately started going to the hospital.  Their plan was to go to the heart specialist hospital where his younger daughter Jane is working and she was on duty at that time.  But on the way Sahebrao started vomiting. He did it twice but still was talking to the driver and the doctor (neighbor). Then Sahebrao suddenly stopped talking and his driver sensed the seriousness and he rushed him to the nearby hospital, but the hospital authorities suggested them to take him to government hospital or some bigger hospital. They all again backed up to their original plan of taking him to main hospital where Jane was waiting for them but when they reached the hospital doctors declared him brought dead.  His body was brought home around 12: 30 midnight.
Sahebrao's coffin was placed in his church, upstairs of his house.  His church choir sang Sahebrao's favorite Bhajans (Christian Indian folk songs.)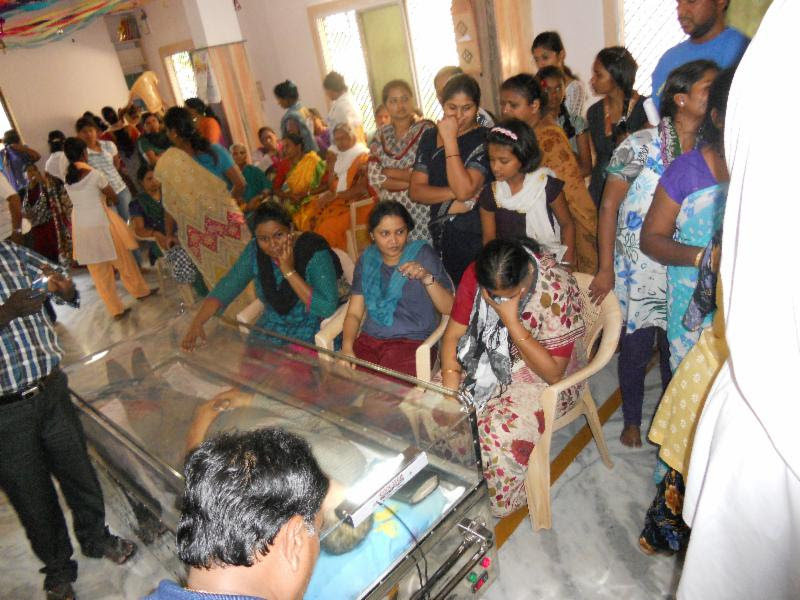 The next day Padmakar took over and the coffin box was brought down and was placed in front of his house.  A Pendal (Decorative tent) was built outside of his house, on the road, so that there will be shadow for all the visitors.  (It is 109 degrees)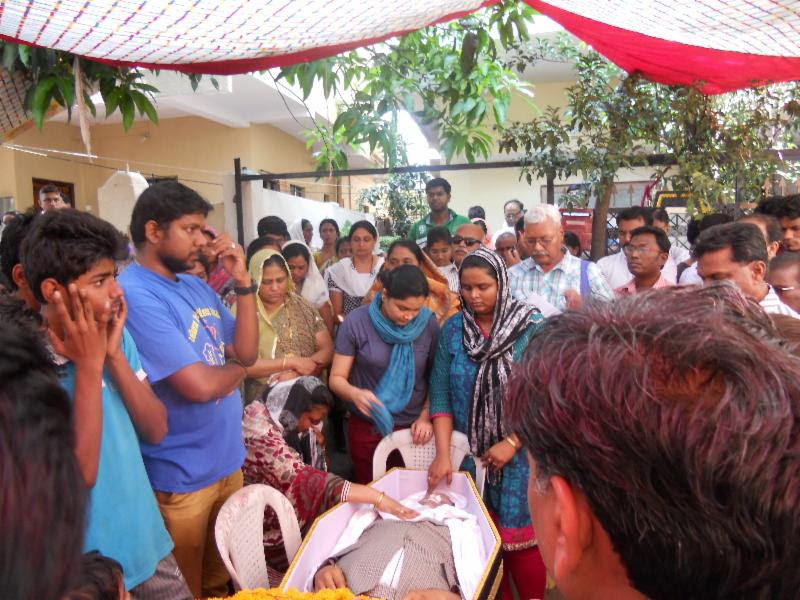 After a short prayer and Bible reading the coffin box was placed in a coffin career van and all the people followed the van till the Christian graveyard in Nagpur.
At the graveyard too Padmakar took the lead and performed the funeral rites.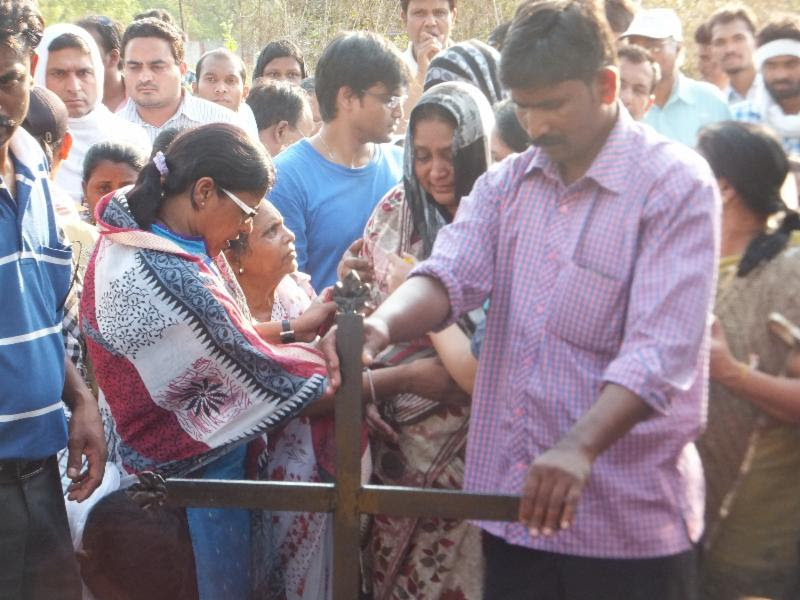 Around 200 people were present at the graveyard.
It was more than a shock for me when I came to know about Sahebrao's death.  Life is definitely uncertain.  I have lost my sleep and my mind is in a mode of recollecting all the good times I had with Sahebrao.  But I am glad that God chose a wonderful day to call him.  Just three days prior to his death he had called me over the phone and asked me to help one of his youth member for getting admission in Bible College in Bangalore.  He said, " Moses, I have a big question in my heart.  After I die who will take care of my church? So I want to send one of my youths to Bible College and I need your letter for his admission." Since my co-brother is the Executive Director of this college I made a phone call to my co-brother and requested him to consider the application.
Definitely Sahebrao had too many plans for the betterment of his church and ministry and worked hard throughout his life.  He did leave lot of memories behind and I specially remember all the fun that I had working with him.
Padmakar's report:
SAHEBRAO JADHAO PROFILE
BORN ON:
15TH JUNE 1955, AT BHUSAWAL, DIST JALGAON, MAHARASHTRA
BIRTH FAMILY:
He was number five among six brothers -All other brothers were bit dark in color except for Sahebrao who was fairer, looking like "British Sahib" so parents called him "Sahebrao".
DAYS IN ORPHANAGE:
The Parents died, reason unknown, when Sahebrao was just 5 years old. His Uncle brought first five brothers to Boys' Christian Home.
Sahebrao had a special love for birds and animals. He was a successful pigeon keeper. Under his care pigeons used to grow like anything. He had a special whistle language that even pigeons used to understand.
He also had a love for quality dogs like Doberman, Hunter, Bulldog, and German shepherd etc. While in orphanage he voluntarily looked after the dogs and continued his hobby till his death.
He had a craving desire to own a special kind of Cat. The desire was fulfilled may be three months prior to his death, when he found "that cat" and purchased it for Rs. 8000.00 (Tara did not allow him to keep that "horrible" cat in their home, so he kept it with other family.
He lived a typical happy orphanage life, being great in mischief and hunting and haunting fellow hostellers to tease them. He would be literally on mischief tour along with his friends.
He was average student, not so brilliant and not so dull.
PRAKASH:
After passing 10th grade, to the amazement of warden and teachers, he was brought to Prakash. Because of his fun filled attitude and non-seriousness towards studies everybody thought he would fail, but no, he passed Secondary School Certificate Examination with pretty good marks. He did his 11th and 12th while staying at Prakash. His feisty nature growing from strength to strength, so even at Prakash he would mimic, tease, pull down fellow inmates. He was a great manufacturer of jokes, sayings and pranks. Sahebrao decided to be in full time ministry. All the boys who were "victims" of his humor would exclaim, Sahebrao, Pastor, no way – how did it happen?
THEOLOGICAL TRAINING:
Sahebrao got his Bachelor of Theology degree at Allahabad Bible Seminary. You think in religious atmosphere he would stop his humor and pranks, but no, he just elevated that area to another level.  Later he started working as a Prakash for India pastor.
BACK ON FIELD:
After finishing his theological training Sahebrao served as intern to senior Pastors He was assigned to start a Church. He worked very very hard and would conduct his worship services at various homes. He was made Pastor and was also ordained for the ministry.
CHURCH MINISTRY:
Sahebrao's hard work and blessings of the Lord yielded fruits and the sizeable congregation began to be formed. He would always look for the graduates of Prakash and would encourage them to find a job in Nagpur and even help them to find a job and invite them to his Church. He treated his congregation members.
LATER AT PRAKASH:
He taught the subject of Bible doctrine for many years and also conducted Friday Starting Point group regularly. The students enjoyed his class, because there was never a dull moment, as humor would flow like a fountain. Many have been blessed through his messages and teaching.
FAMILY:
The Lord has blessed Sahebrao and Tara with two daughters – Arpita (Sony) and Namita Jane). Both are married.
(Sorry I didn't have of Jane with family.)
The most dear thing to his heart was his congregation. He taught them the value of saving for the future. He brought most of the couples together in marriage. Helped them with their kids admission in various schools, helped them when they were sick. Used to have a special love for street beggars and would feel glad when they would eat the food brought by Sahebrao. Also loved children in the slum. I remember he inviting me to a slum area where he was having a Vacation Bible School. It was the most dirty place and children were also without bath with torn clothes, hairs going all direction. Without fail he conducted summer vacation evangelism, distributing gospel tracts from door to door. Built a "Church" on the top of his house, where he would spend most of his time, reading and praying.
When he started getting some grey hairs, he used to tell others that he is young, but because he has used Padmakar's comb he has gotten grey hairs.
He was the Chairman of the Prakash for India church association, but never acted like that. He was down to earth and never took tension as such.                
(Here he is talking with Loren.)
His attitude towards life was happy, hated to be exposed to the medicine and injection and would get throbbing heart when he was passing by the hospital. While talking about the Church that is there on the top of the house, he had said a day will come when you will put me in black box. But the Church will stay and people would continue to worship the Lord. I have not built it for me or for my family, but for people. His words became reality when his dead body was kept in the Church and the black coffin box was brought to the Church.
He was regularly taking morning walk and had unregistered morning walkers club. He would crack jokes with them and so was popular among them. He was at ease with Punjabis, Muslims, Hindus, politicians, businessmen etc. In fact a Hindu politician used to help him with the arrangement of Star bus for choir, outreach etc.
Till he breathed his last he served the Lord with full devotion, always smiling and making others smile.