Quintessence
Is that not a perfect word…"the most perfect embodiment of something"? This next story is Prakash's vision fulfilled.
In our effort to give our guests at Prakash an overview of all the ministries of Prakash for India, we took our recent guests to Moses' small house church. I was so impressed by the number of Prakash alumni attending that I asked Moses to give me a report on these young men.
Sidh gave his testimony while we were attending. Even though I didn't understand all he spoke (in Marathi) I was in tears. This is the exemplification of the reason Prakash was founded.
"I am very happy to let you know that we have graduates of Prakash attending our Church and helping our church financially and also by leading the worship service. There are six former students of Prakash that are regularly attending our church. Here are a few of their stories.
(By the way Moses is an alumni of Prakash)
The Aumni have rented rooms in Wadi and they work in different places but they live together and support each other financially and morally. Nobody has a permanent job so insecurity is always there in terms of job. Sidh has done a computer course. Pren too has done his computer course here at Prakash. Jaran has gone through the Refrigeration and Air-conditioning course. Raj has studied Electrician trade.   So they are all in different professions and living together.
Sidh:
Sidh is an orphan boy from a very remote poor village. His mother died while he was very small and he doesn't even remember who his father is. He survived for few years with his grandmother but she too died leaving him alone. He worked as a maidservant in two houses and in return he use to get leftover food and some used clothes. In all this he had made a mind to finish his studies and he did complete his 12th grade and not only that he even got good grades. Later when he came in contact with a Pastor of one of the Prakash for India churches, he came to know about Prakash and he decided to learn a computer course. He did well in his computer exam but he was unable to get a job.
He struggled a lot and got some job but the deal was that he never got a salary at the end of the month. When Janet and I came to know about it we took the responsibility to provide him food for a month. The alumni of Prakash who were already living in Wadi allowed him to share their room. Very bravely or courageously he went through this situation…one day at a time. Another job he got was not at all good and the owner of the company physically abused him. He was still willing to continue but later one of our hostel managers, Solomon, 
suggested him to discontinue his present job and very miraculously within two days of time Solomon gets a phone call that there is a vacancy in MIDC. Solomon took Sidh with him and visited the owner of the Tyre Company in MIDC and requested the owner to give him the job. And finally Sidh gets a good job.
At present Sidh has a good and kind of stable job as he is working for "JK Tyres Company". He is earning a good wage and looking forward for a raise from the month. Glory to God!
Pren: Pren lost his father while he was small and his mother runs a tea stall and she is very very uneducated. But Pren speaks very good English. At present he is working as a typist and proofreader for Bible translators.
(Several of our Prakash alumni have become successful businessmen and own their own companies. Without exception they have embraced the Prakash vision of helping, not only their family, but also the qualified young men of Prakash.)
Raj & Jaran: Raj and Jaran are working in one of our Prakash graduates' Refrigeration workshop as A/C mechanic or technician. They make a good wage and give to the church.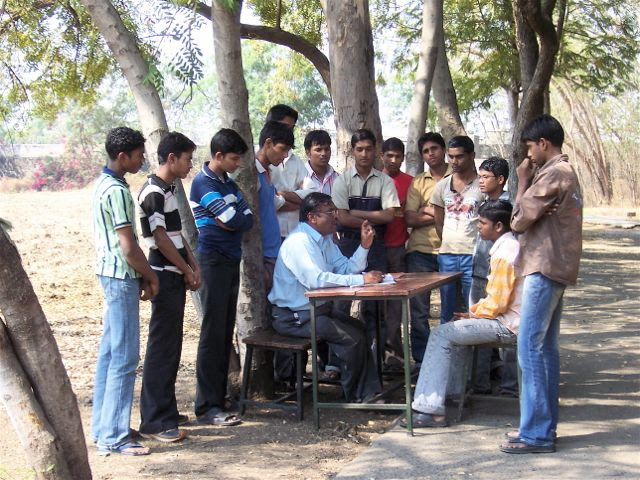 Sura: Sura is also working in another one of our alumni's workshop as a electrical technician.
So when Pren and others too went through this struggle and when they had no jobs they still shared their rooms and supported with each other by providing food and shelter. The story continues…they still help each other in the times of joblessness. We are desperately waiting to welcome one more alumni in our church next week. He will be arriving to Nagpur this week. He is a very good singer and musician.
These young men come to my home on a regular basis for fellowship and more in-depth Bible Study. I am so blessed to see their love and concern for each other. Students coming from different places, background and different trades uplifting each other, helping each other, Wow! Amazing!
I am also blessed to see the commitment of our staff members who care for these students as their own kids. All Glory and honor to our Lord Jesus Christ."