When our grandson Connor died, all of you gave Loren and I such wonderful comfort and support. Some of you wanted to donate to Prakash in memory of Connor. As the funds rolled in we were simply overwhelmed by the amount of monies received. We decided to buy a MUCH NEEDED motorcycle for Dr. Suresh and Vet-Med ministries. He puts about 15,000 miles on his motorcycle a year…Whew…and actually it broke down the day we arrived.

On the day of purchase, silly me wanted the motorcycle to be in Connor's favorite color…blue. Of course, all the ones on the showroom floor were black. As we were roaming the showroom and waiting for the salesman to find and wipe the dust off the one-an-only blue Honda 110, the owner comes out of his office and says, "Hello, do you remember me?" Welllll… no we didn't. Turns out he is one of Ashok's friends and had been at the wedding and Christmas party we had attended. He then ushers us back into his office and we are given the royal treatment and ceremonial tea before business could be conducted. All of the accessories that we had declined because of expense were given as well as a discount. Thank you, Jesus.
Later, when Dr. Suresh went to pick up the motorcycle and the RTO guy (their DMV) was to come to register the motorcycle, about 100 people were waiting in line. The shop sells about 1500 scooters and motorcycles of month. Again the owner comes out and takes Dr. Suresh to the front of the line. Many hours of waiting were eradicated.
Wanting to do a complete service on the old motorcycle, we now had funds to a pucca…first-class…job on it.
A day was arranged for Dr. Suresh and Loren…with his GO-PRO camera… to ride the old motorcycle out to Vanda's village. Nupi and I went in the car. This was our first visit to Vanda's new home.
All the kids had gathered for a little singing program. The young mother to whom we had given the black goats was there. She and Vanda were childhood friends. We didn't know this until after we had given the goats. (I made a big mistake in the Journal about her. It is seven miles, ONE WAY to Vanda's village. Not six miles round trip.)
As I was watching the kids singing, and laughing at how they crossed their arms exactly like Vanda has always done, I noticed a little boy and said to Nupi, "Look at those eyelashes. I would kill for those." Later I found out that it was little CONNOR, the nephew of Vanda that I had named years ago.
Anyway, the purpose of the visit was to tell Vanda and his wife that we were gifting the old motorcycle to him for his work with Dr. Suresh.
They were speechless. They had been praying, he said, for some transportation. But a bicycle was as big as their dream.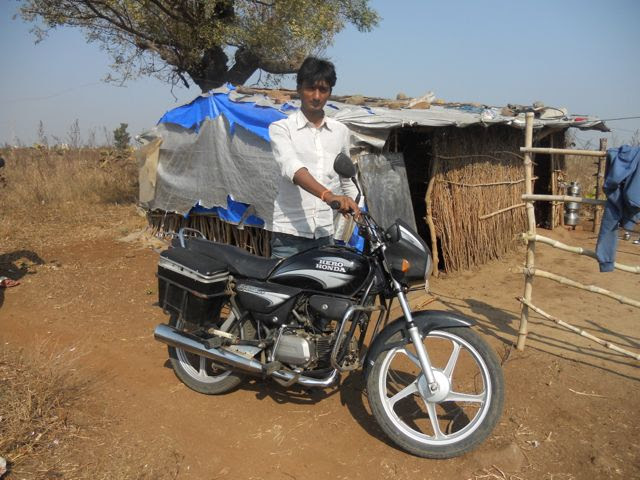 Thanks to all of you the ministry of Prakash is going forward and Connor is being remembered in a precious and meaningful way.