As a Christmas gift to us, our son Trenton and his wife Melanie gave us a sewing machine. This truly unique gift was wonderful. Last week we went to Nagpur city and purchased the machine, cover, a stool, scissors, and needles. I stuck 100 rupees in the bag for thread…everything to start a business.
Taking a tailoring teacher was a precaution that the machine was in working condition.
Loren was trying to figure out how we would transport the machine back to Prakash when a young man started taking it apart, piece-by-piece. Finally he put all the parts into plastic bags and sewed them closed.  Loren just had to laugh.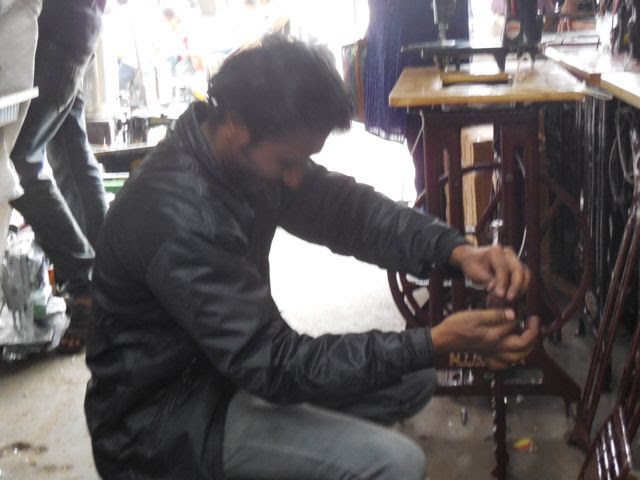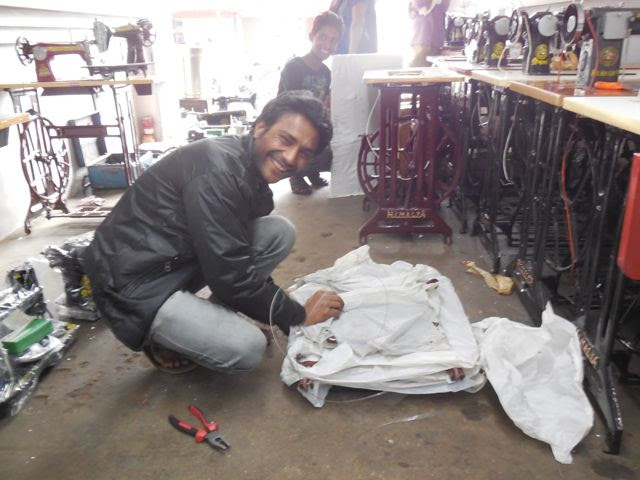 A stop at  Coffee Day was an added treat and suggested by Premdaus as he purposely drove by.
Nupi had contacted Manisha, a former RGI student and she and her father had traveled five hours by bus to come to RGI to receive the most valuable gift. Arrangements had to be made for them to spend the night and be fed.
The next day as we presented the gift, both father and daughter were without words. But the joy of Manisha being able to start her own tailoring
business was pure joy. Not only will she be able to help the family income…the father makes 100 rupees a day when he can find work. That is about $1.50. The mother can some days also find day-labor employment. Not nearly enough to feed the family of five.
In August of this year their tiny bamboo stick hut/house was washed away during the terrible monsoons. They are now living in a small rented room as they try to save funds to build a new brick hut. Their uncle and his family also share the property and are in the same predicament.
When we dropped them off at the bus stop the father kept wondering where the sewing was. All he had seen was the RGI machine that we used for pictures and didn't know the three plastic bags were the machine. We had a hard time convincing him that it was all there.
This was a very fun and rewarding experience for us. Thank you. BTW…This is a great way for families to experience Christmas. There were funds donated for another machine, so we will be finding another needy RGI girl to gift it to.