FREE FUNDS
I have mentioned this before but thought it was worth redoing.
AmazonSmile Foundation…When you shop at AmazonSmile, Amazon donates 0.5% of the purchase price to Prakash Association U S A.
(This is Prakash for India's registered name.)
Bookmark the link http://www.smile.amazon.com/ch/23-7003577and support us every time you shop.
Amazon donates to Prakash Association U S A when you shop @AmazonSmile. http://www.smile.amazon.com/ch/23-7003577  
#YouShopAmazonGives
HEAT WAVE
Many of you have asked about the heat wave in India, YES, YES, it has affected all the staff and students of Prakash. Most of the students go home or back to orphanages during the month of May when the temperatures reached 122 degrees for days on end. Remember, they have no air conditioning.
Two people died in villages where Dr. Suresh works. He could not ride his motorcycle during this time. The tar on the roads was even melting.
Monsoon season was supposed to begin the first of June, but so far there has been no rain.
During all this heat, poor Nagesh had to sit for 14 hours in government offices…with no air conditioning…trying to get papers signed. Not just one day, but several. Notice the picture of the official's desk. The official took his morning tea, then later his lunch and again afternoon tea all the while the papers sat in plain view and only needed his signature.
INDIA…GOTTA LOVE IT.
NO BEEF
…Or should I say…"Where's the beef?" Several states in India have outlawed the eating or slaughtering of beef. This is an effort to make India a total Hindu country. The law is so strict that it is punishable by jail with no trial for five years. Rape a girl and the maximum is three years. If you are caught even bringing beef in from another state…straight to jail
This has put a huge strain on the budget of all staff personnel and Prakash student food budget.
CHICKENS
During the month of May in our state of Maharashtra, 16 million chickens died due to the heat. This along with the fact that the wild animals in zoos and game reserves are now being fed chickens, has made the price of chicken skyrocket. Now the government is going after goats. Like I said, they want India to be totally Hindu. We see rebellion on the horizon.
HUGE SHOUT OUT
Thank you to donors who are paying for Porima to have arm surgery and physical therapy so that her elbow will no longer be frozen. She will finish her classes the end of July and have surgery the beginning of August. She will stay at RGI till the Christmas break. Along with her
physical therapy, she will be helping to make the uniforms and PJ's for the new batch.
UGG!!!
Loren and I just found out in January that all the students sleep in their clothes. So that is the reason for such dirty sheets…work, eat, play and sleep in same clothes. Of course, most of them have never slept in a bed before, let alone have sheets, so this is why it has taken us so long to learn of this custom. Anyway, I grossed out and now part of the RGI uniforms are PJ's.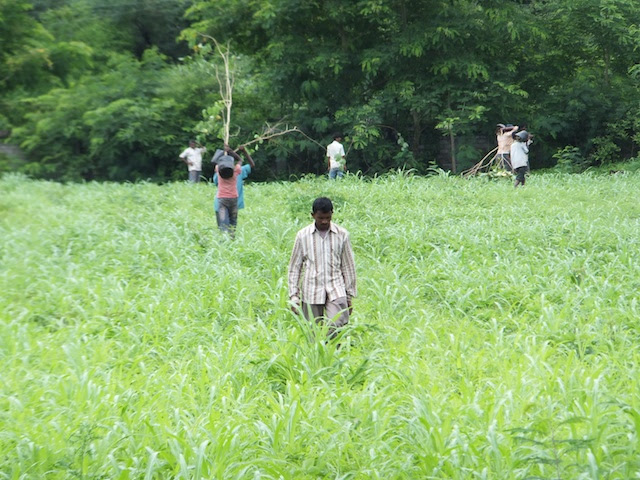 Still trying to raise funds for the boys to have uniforms and PJ's every year.