Life goes on at Prakash even with all the trials…there are the victories. I just wanted everyone to know that your prayers and donations make all of this can take place for these students.
Many of you have asked about Snehal, he is still in the hospital. He was admitted to ICU again with urinary track infection and a high temperature. There is very little improvement with speech, leg and arm movement. Only God can heal this situation. Joy had to hire another teacher for his classes. The students need to continue in their studies.
A couple of reports from Moses:
Tractor
"Our farming work was on hold for some time as we got flat tire on our tractor.  Theses tires gave good service so far as they came with the tractor when we had purchased it 15 years back.  Now they will be costing Rs. 9750
which is not in our budget. ($150)
Our staff members are trying their best to make maximum use of the equipments they have and they are good at maintaining it.   Glory to God!"
Weed Chopper                           
Due to major problems with rats and snakes the purchase of weed chopper was great gift. Only Premdas and Vipal will use this equipment. It is like having new toy for them. They do not mind doing tall grass cutting now.
Dental Check-up for students

"Keeping in mind the dental problems our students go through, Nupi and Shiny has organized a dental checkup camp for our students.
Almost every student in Prakash got his or her teeth cleaned up. Until the dental checkup was done we did not know that some of our students were going through major dental problems.  Boys are happy to get their teeth cleaned up and wants to simply smile without any reason just to show their white teeth. LOL.
Girls went too and are also smiling for no reason. This is first time to ever go for dental work up.
Thanks to Nupi and Shiny for making these events occur."
A report from Nupi: (She has been very sick with fever and cough)
"It's been quite some time since I wrote to you.  I can't say I am well now my cough is troubling me quite sometime.
I have a very good news for you.  The results for Computer and Tailoring class are out and all the students have passed with good marks. Yes it is 100% yet again.  All glory and honor to the Lord who have helped all of us and given us good staff.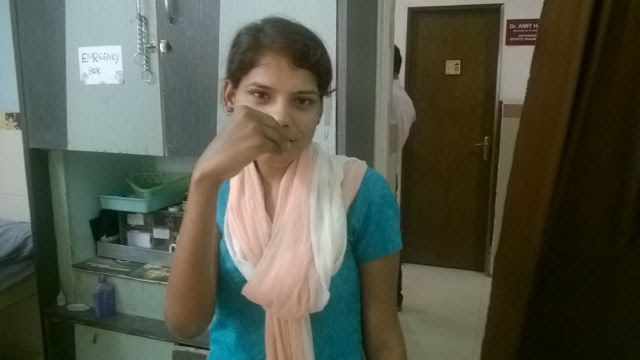 Also Pooma is recovering fast her, cast is gone she has resumed all normal activities, even eating with this arm.  She is doing her exercises under the supervision of the warden at the hostel.  The doctor said he will see her next week and then she will be fit to go to her village.  She should continue the special exercises and use her hand as much as possible.  Praise God for her."