Knowing Loren you will for sure know that he would have a long list of projects when he arrives in India. Never will all of these be completed . . . mostly due to lack of funds, but also the numerous Indian Holidays. India just celebrated HOLI, the Festival of Colours. No one who wanted to stay clean would go out during COLOURS.
Even with all of this delay, here are some pictures of the progress they are making on the LIST. As I said before, one thing leads to another.
When the Team from California came and painted dorm rooms, it lead to beds being painted and new
almirahs
(lockers).
The
almirahs
are GRADUALLY arriving, one by one. Well . . . then the Housefather's office looked terrible, so it had to be painted and his furniture reupholstered.
Sick Bay also needed to be added to his office, so the welding class is SLOWLY making metal dividers. Not all of it their fault. The students are in the midst of doing practical training at nearby factories.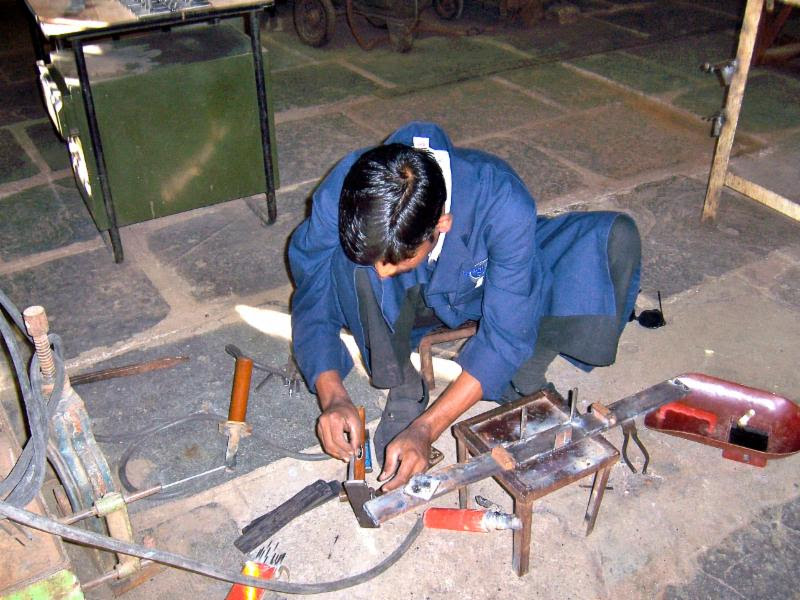 With the PBI building heading towards 50 years, there are some major repairs that are needed. Water and mold are the major culprits. The entire building will eventually need this work done, but for now we are working on the tower. Then painting it when we return, Lord willing, next January.
We did have one large wall painted while we were there. Notice how it is done . . . two coats of primer and two coats paint . . . with a rope ladder and a four-inch brush and the
weight man
on top.
Don't ask why, it is just done that way.
It is always good for more than one set of eyes to look at issues. I noticed a situation with male computer students on the RGI campus. In our attempt to have a co-ed class we put into place a process for the movement of male students and this was not being adhered too. Well, in the process of investigating, we realized that more than just computer male students were going on the RGI campus. THAT NEEDED TO END IMMEDIATELY. The government now requires that Electrician and Welding students need basic computer skills.
Straightaway, a location was found on PBI campus and arrangements made for these new computer classes.
It is always hard to get a COMPREHENSIVE list of what is required to complete a project.
We left India thinking we had the list only to find out . . . as students were ready to use the rooms . . . that no provision for an internet connection had been considered. Oh well, you can see from the pictures that at last, classes are up and running, much to Loren's delight.
We are praying for funding for the PBI building repairs. It has to be done or we will lose the entire building to rubble.