Nupi has given us another awesome report. It makes all we do so worth it.
                  
"Vishal comes from a small village about 75 km from Nagpur.  Vishal's mother died when Vishal and her brother were very young.  Caring for the two young children was very difficult for Vishal's father as he was the sole breadwinner for the family.  He works as a labour in the farm.  He decided to marry so that there will be somebody to take care of his two children.  But things didn't turn out according to his expectations. The children were not treated well in the absence of the father. Vishal was force to quit going to school to do the chores at home.  She was a very quiet child and did not retaliate at all. There was a Christian family who lived next door. A pastor's wife regularly visited this house for prayer. Vishal always came and sat in a corner quietly during this time.  Noticing this, the pastor's wife inquired about this girl. Vishal had only studied up to 4
th
standard and then was forced to leave her schooling. She was always quiet and never complained about the hard time her new mother gave to her. Vishal's father was a seeker and attended church sometimes.
The pastor's wife talked to Vishal's father about sending her to RGI to study tailoring skills. He so much wanted to send her but could not afford to pay the fees. With much efforts we accepted Vishal into RGI when she was 14 years old.  She was very shy and hardly spoke a word. She was weak in reading and writing skills too. Her physical health too was low. But now after spending a year and half at RGI at this moment she is a totally different person.
She can read fluently and write as good as the other 10/12
th
passed students. This is what Vishal says about her experience at RGI: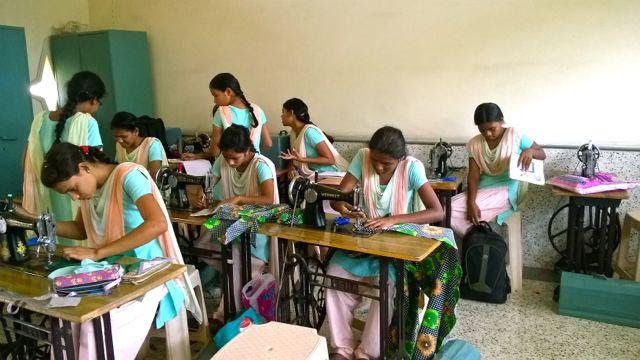 'When I came to RGI I thought that I will not be able to stay here, I was scared that I will not be able to do well in studies. But here I got teachers who became my mothers. When I cried I was consoled. I was able to change my thoughts in RGI. I got the love of a mother at RGI. My teacher teaches me very patiently she tells me again and again. She also scolds me for doing wrong things. But I see that there is love in her scolding. I do not miss my house while at RGI. I love to get up early, work and study.
I can speak in English. I love the beauty parlour class.  It was the Lords will that I come to RGI. Starting Point is my favourite class I have accepted Jesus as my personal saviour. Now I aim to appear for my 10
th
and 12
th
exam. I want to study computers and want to speak English fluently.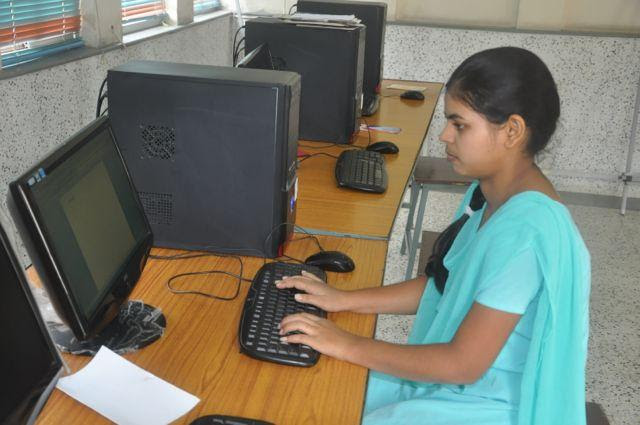 I want to become self-reliant in life. I am so happy that I got a cap for my broken front tooth due to dental camp at RGI. Now I can smile confidently."
Vishal now leads programs, plays musical instruments and sings very well.  She is a fine dancer too.
During the short vacation times Vishal's change was noticeable to her new mother. She started going to church with Vishal and her father. She has now accepted Jesus as her saviour. I am so thankful that Vishal was able to radiate the love of Jesus and the love she received from her teachers to her mother even though she didn't love her.
It is through her living that Vishal was able to win her mother to the Lord. All glory and honour to the Jesus! Vishal has taken the extra classes along with other 10th failed students and has done extremely well in maths and other subjects too. We will be helping her to fill her form and appear for her 10th exam directly once she completes her 16 year of age."