"To day the police came with the warrant to arrest me and at the same time carried out the process to bail me out. Nagesh and Moses bailed me out. I have to answer the court. Met with the friend Attorney to answer to the court. We will see what happens. Keep praying."
We received this email from Joy our General Director just before we left for India. As you must know it brings great anxiety when we get this kind of news. So we asked for more information.
Joy's answer:
"Very difficult task to explain Indian Judicial System, but I will try to explain with the best of my abilities.
1. There was a PIL (Public Interest Litigation) case file by a common man in the High Court regarding safety of School Children especially those are transported by School Buses and the parents pay for the transportation.
2. I don't know how but the Primary School Education Department registered Prakash as school that gives primary education to children and we transport school children to our school.
3. I had explained to the department that we do not run school but Industrial Training Institute and our school is residential. So we are out of question of transporting school going kids.
Still they have issued warrants against the president and Principal of Prakash and I am representing both.
The Police was with me for at least one hour did all the paper work in the office and Moses and Nagesh were asked to sign papers of bail. That was a formality to be done cause it is not criminal offence.
If I do not appear in the court, then it will be serious matter but till now it is just the procedure that I have to follow. I had real good time with the Cops got to tell what we do, why we do. While we had tea the senior COP wanted my help to have a baby for adoption for his Brahmin friend for which I promised him that I will definitely do it gladly.
I don't want you to lose your sleep over this issue because My God is able to fight this battle. God has given some best people to help.
Indian Judicial system is, I think, the most complicated system in the world to understand that why the attorneys make good money.
When we arrived here at Prakash we learned the outcome of the High Court case.
Again Joy explained how a Prakash Alumni came to the rescue.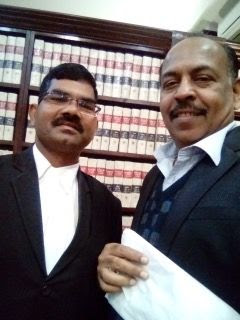 "When School education issued unwarranted legal notices and arrest warrant through high court, Advocate Rupnarayan fought the case for Prakash and rescued us from unnecessary legal hassle and much money.
Advocate Runarayan comes from small village in Amravati District. He was college student and stayed in Prakash for several years and moved out of Prakash in 1997 after completion of his studies.
He is a strong Christian leader and witnessing believer in Nagpur High Court. He is always grateful to Prakash for helping him during crucial time in his life. He is always ready to help Prakash in legal matters."
Praise God for our Alumni.