I thought I would give you all a glimpse of trying to get ready for a big event in India takes hours and days more than it would in US. We started planning early for our 45th Anniversary event partly because we wanted it done beautifully and partly as a teaching project. It took several days to come up with a meaningful theme for the event. After much pondering, Ignite the Dream was chosen. First we have to navigate the horrible traffic of Nagpur on our way to the cup designer . . . the cup to be given as a memento gift.


Then to the banner and invitation printer. 
  Turns out the printer is an alumni of Prakash and now owns his own business with a partner. It took multiple trips to obtain the final gorgeous products. As you can see we are working with the 45th anniversary stone, the sapphire.

        When we returned to campus we saw our tribal employee climbing a tree. He went up and cut the bee hive out of the tree. Nitin explained to us where the honey was, located, no longer editable because of the stuff they used to kill the bees, and in his words, "the toilet area."  At least for now our bee problem is solved. The hive is a wonder of God when you see how perfectly made it all is.


Loren realized that we were going to have a parking issue with all the guests and the abundance of new car owners. So he initiated an endeavor to build a parking lot using a lot of the rubble left from the well project. It is not quite finished because he developed a serious head cold from all the dust.


Next was the process of interviewing a caterer. Finally, we settled on one and made all our menu choices.


Like any party you want your house to look its best, so our painter was called and the stairwell is being repainted. The paint was damaged badly when the tower had to have work done on it a couple of years ago. Tragedy was averted when Loren took a stroll on Sunday and saw the color of paint that was being applied . . . ORANGE. A new color was chosen. There were all of three choices.
Another day and again off to the city and a favorite area, Itwari. I got to ride in the new mode of transportation, an e-rickshaw. An electric rickshaw. It saved the day from having to walk literally miles to find all the things on our list.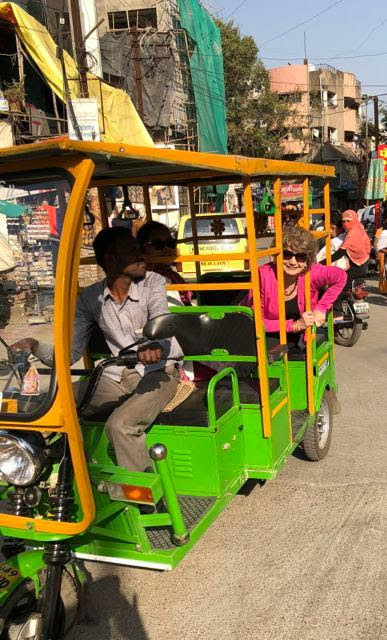 I can't imagine all of us at home taking off our shoes to enter a shop, but what these shoes have walked through it is a good thing here. lol


We needed fabric for the RGI dancers costumes for the program. Trying to find enough of one color was difficult.


Then I wanted fabric to re-do the columns that will be part of the decor.


Off to another shop to find shawls that will honor our American guests.
Nupi kept telling the shop owner that color was most important thing as he continued to show me purple, green and turquoise. At last we got what we needed.


Arriving back to campus and seeing our blind cane weaver working to fix several chairs for the lobby and dining room made me feel great. Things are moving along, even if it isn't to an American timetable.


Pray that this homecoming event will get more of our alumni giving back to the ministry of Prakash. That is our goal and vision for the event.