Prakash
 began on this church campus in Amarvarti in 1973
For years the pastor of the Amarvati church has wanted us to come and visit. It is an arduous trip and used to be at least six hours one way, now it is two or three depending on traffic. Loren finally made arrangements for Moses and Janet to drive us on Sunday. Moses is Chairman of the CBCA board so was the perfect person for the task, plus he has a great car and is a wonderful Indian driver.
We were treated like celebrities. Children sang a welcome song.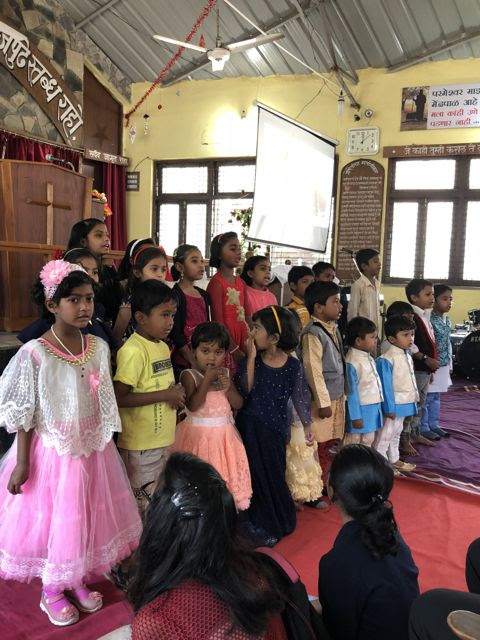 It was almost embarrassing the amount of gifts we were given. Indians certainly know how to lavish praise.


The garlands were gorgeous and then there were six bouquets given by different groups in the church.


The pastor bought a white horse statue because we are from Montana.
 Moses translated our heartfelt "Thank you." The whole church wanted a picture with us so we stood in front and they all were in the picture.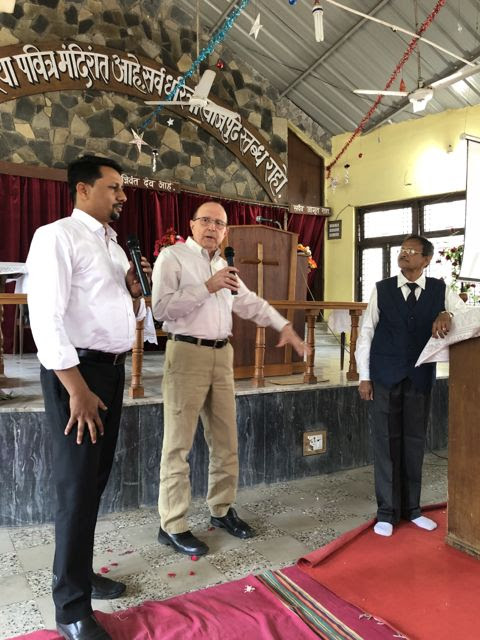 It was wonderful to fellowship with these dear people. Long time friends, John and Dee Cook came to the service as a surprise. I have known John since he was four.
The 
Prakash
 alumnus who I wrote about recently was there with his family and traveling store. It was fantastic to see the van first hand.
After the service and all the visiting, we took Moses, Janet, the pastor and his wife out to dinner. A friend of Moses' sister was the manager of the hotel and he had a pendahl decorated for us over our table.
Dinner took about two hours in the Indian fashion and next I wanted to see the fairly new Walmart store . . . unreal for India. It is actually more like a Costco, but still was unbelievable to see.
On the way back to 
Prakash
 the traffic was horrible due to an accident and a large group of Jain monks with their women. The monks believe that no cloth should ever touch their bodies. SOOOOO the men were naked. Needless to say, Loren would not let me take a picture. LOL
I felt so bad that all the flowers were going to go to waste so I asked Moses to take them over to RGI for the girls to enjoy. I had NO idea what they would do with them. Really incredible! A flower Rangoli.