Schedules to make, timetables to print, menus to have translated for Sunil the cook, bulbs to replace  . . . then upholster finally shows up to fix the Lobby sofas.
All just a little part of putting on an event in India.
The students will keep their invitations as sovereigns, so the staff wanted Nani to hand one to each student.  It was fun to see how excited they all were.
There were multiple trips to the airport and each arrival was met at the gate with PBI dancers and the RGI girls throwing rose petals. Anita had tears from the experience.
The RGI girls really got involved in the decorating of the auditorium and took pictures I provided to make History walls and an Alumni success stories wall.

Finally, the decorations were completely finished except for the chairs.
  

The guests wanted to see Starting Point in action and also tour some of the classes in progress. Some of the guests will have to leave before classes will resume on Monday.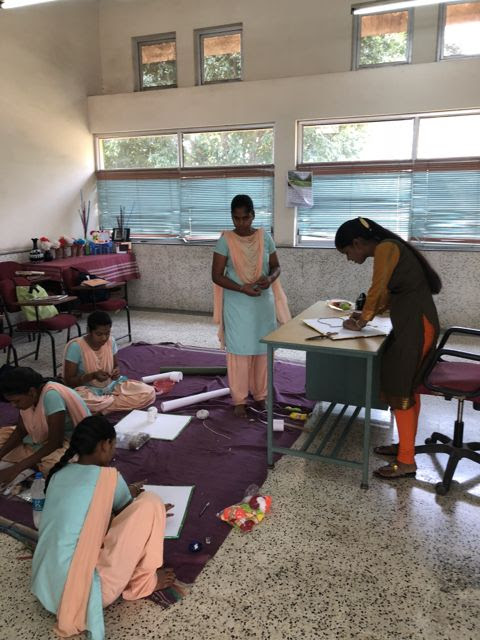 After the first ever dress rehearsal for a program, we had a tea break. Of course, it is the hottest day we have had and everyone clustered in front of the only air conditioner.


The cooks arrived and started preparations for the meal tonight. They were so happy that Loren had concrete poured for their work area. 

                          More to come about the event