Every year the new batch of girls have heard about the tradition of Nani taking them on an outing. This year I planned it so Anita could be a part and also give the girls an inspirational talk.
The day arrived and the bus ride to the Science Park was a day to remember.
There were hundreds of exhibits and the girls were in awe of many of them. It was very well done and clean facility.  The girls learned  a lot. Oodles of laughter also.

I found a chair to sit for a while but, it only had one leg . . . worked just fine.

The 3D movie had us all screaming when the snake was in our faces.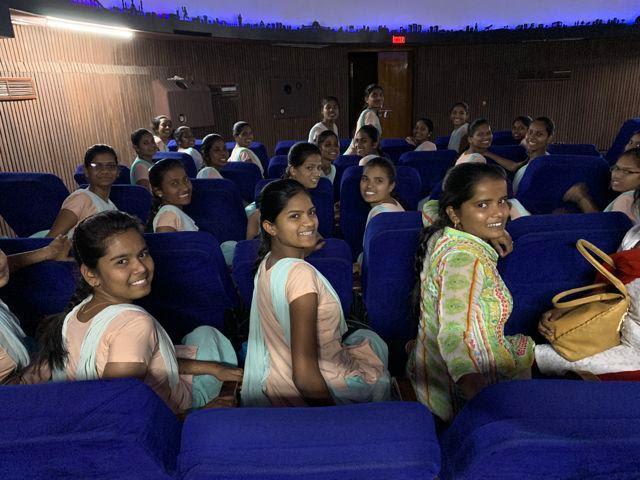 The Planetarium was exceptional. We had just viewed Louie Gigleo'sIndescribable video and many of his photos were on display here as well. The chairs even leaned back for viewing. Anita laughed when I covered my head. This head wasn't about it touch that chair fabric. LOL . . . her's didn't either.


The Sphere was an excellent Hinglish talk and display of the plants. By the time we finished with all the shows it was two and we were all ready for a picnic lunch. The ground were lovely and had a wonderful place for a picnic.

                              
On the way back to Prakash Anita gave everyone a Diamond aka Sapphiresucker in keeping with our Theme for the event. Anita and I enjoyed ours.


Back at RGI and air-conditioning, our fun time continued. Anita had a fabulous talk prepared on "You are Valuable." We had just heard that many of them think they are just rubbish on the side of the road. It was powerful. I told them to get up each morning and when their first foot hits the floor say, "I am smart." When the second foot hits the floor, "I am valuable." and then JUMP and say, "God loves ME!"  They loved it.


Anita also brought a package of press on nail polish for each girl. They learned how to apply it on me and then had a ball doing it on each other. We were unaware that Nupi does not allow nail polish, but she made an exception for this once.

They had so much fun  
The day ended with a group hug and then a memory picture. Anita was beyond wonderful with the girls. She made some lasting memories. These precious girls    are valuable to us.