A great report on Nupi's recovery from a sever case of typhoid fever, 
She
 is back to work, though very weak. Dr. Suresh has been a good husband in caring for her. Their two daughters also would not "mummy" do anything around the house.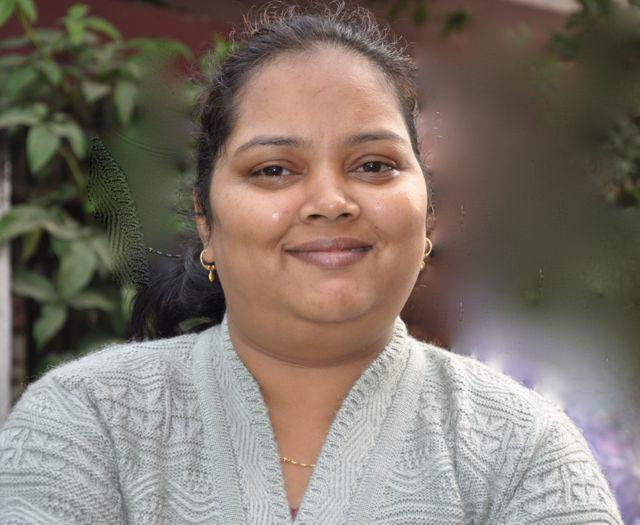 While all of this is going on Dr. Suresh still had time to gift another pair of goats and write this wonderful story:
"I am heartily thankful to Prakash donors for once again helping us to help one more destitute family in our area in their hand to mouth situation.
Mrs. Babybai more than 48 years old widow living in far away village. 
She
 is having 3 daughters named Saveta 26, Meenu 24 and Masika 22 years of age. Saveta and Meenu got married and are living in their husbands' families. Masika is still doing her college studies and Babybai works as a day laborer for others. 
She
 gets 200 Rupees per day and out of that 
she
 has to manage everything and also college expenses of Masika. Many time Masika could not attend college as her mother don't have money for transportation.
Babybai's story tears my heart when I heard it. 
She
 lost her parents at the age of 
three
 and since then 
she
 grew up with her aunt. At the age of 16 
she
 had to marry with the man who was already married. Her married life was not joyful. Her husband Vamrao used to drink wine and Babybai used to bear his expenses. Her husband's habit grew day-by-day snatching all families joy. Somehow two elder daughters got married and then Vamrao's liver got damaged and he got severe paralytic attack and he lost his life. In that leaving whole family all alone in 2014.  Since then Babybai is somehow managing everything.
She
 felt that God brought her in contact with Vet Med's volunteer Mr. Suryakant one of our ex-self reliant student and very proud to help us whenever we need any help in his area. He introduced me with Mrs. Babybai and wish that I could help her in her situation through any help. When I heard her story I was praying to God to show me some way to help this family. God answered my prayer as Mr. Loren told me to find one more family for goat project. With no doubt I decided to give this project to Mrs. Babybai.
I personally went to give her good news about helping her with two female goats. I saw tears of joy in her eyes and 
she
 was speechless for a moment and then 
she
 only reacted by joining her two hands towards me. I understood her gratitude on her face. I thank God for such a provision that Vet Med can bring joy on many faces. And bring opportunity to build the spiritual relationship with them.
Today on 25
th
 April 2019 we went to bring two pregnant females from the owner. Suryakant explained to him the purpose of buying these two females and the work of Vet Med Outreach. After that owner really soften his heart and gave one of the kid of one goat along with mother. So Babybai actually got two pregnant females with one kid of 3 months. Mrs. Babybai and specially Masika was very happy to have three goats in their home. I just asked Masika why 
she
 is so happy even though 
she
 have to do extra work after this. 
She
replied, 'So what? I will take good care of them by heart because they will give me milk for tea and sell'
(Notice roof for goats)
I once again praise God for this project and thankful to God's people who help us to help this family. This will really change their life and minimize the burden on Babybai. Masika may have enough money to attend college regularly."