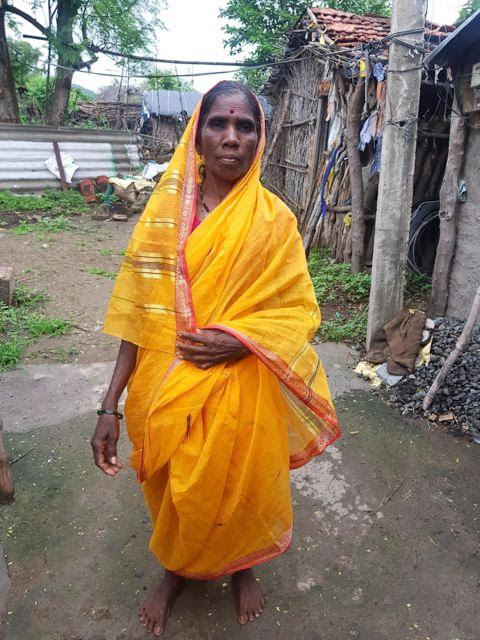 Thank you to all of you who helped in the project to put a roof on Rangubai's hut. Dr. Suresh has sent a couple of updates. By the time this Journal is read the project will be completed. This has been an extraordinary witness of the love of Jesus never before seen by these sweet tribal people.
"Rangubai roof . . . Villagers are helping me in this work. This is first time they are having such kind of work in their village and everybody looks happy that we are helping Rangubai. It is getting delayed because of rain and transportation. Actually this time I had two meetings with village elders and they really put their thoughts in this. Most people suggest cement sheets instead of iron one as the height of the house is very low and in summer it will be very hot for her. So I just appreciate their thought and bought cement sheets for her house
I bought the cement sheets and 9 cement poles for support and some other things for this hut from Kalameshwar. When all things used to arrive many people gathered to see what is happening and then I request some of them whether they will be happy to help me and there are many people who happily said, 'Yes we will be happy to help you as you are helping without any cost to Rangubai.'
Many time we have to stop our work because of rain and in that time Rangubai used to tell her story about how she came closer to Jesus Christ. Every day new person heard her story. I was just looking at her face and her enthusiasm about telling Jesus great work in her life. She thinks Jesus 
only
 send His people to help her in her bad condition.
 (this is not a completed job picture. I don't have one)
Also I am thankful to the village volunteers as they helped me very patiently.
As the height of the house increased other village people found their way to match the gap between wooden branches wall and the roof. They used plastic bags to match this gap. I just let them do according to their way. But anyway Rangubai is very happy with all this help she got.
There are other 4 women who started trusting Jesus because of her testimony and really want us to visit them once a week for fellowship. So I just thinking while coming back from Nanadagomukh I will meet them on every Saturdays. (A new little "house church" in the making.)
We finished our work and Rangubai invited us for prayer in her house along with some other women from that village. "