Our trip to India was good and uneventful. It is just VERY long.
We had a layover in Mumbai to get some rest and while waiting for the time to leave for the airport we were entertained by the brilliant green parrots vying for a spot on the bird feeder outside the Club Room window.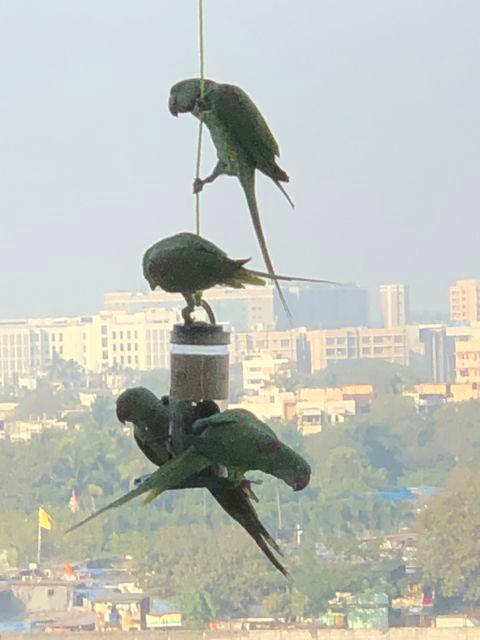 Staff with garlands and smiles met us at the airport in Nagpur. I always love to see the Wel Come as we arrive on the Prakash campus.

In India they spell it WEL-COME, but years ago my Mother didn't want the dash so it has been painted out. It always beings a smile every time I see it. Loren had not eaten a lot of the airplane food so he was very hungry the next morning at breakfast time. He had communicated to Sunil the cook what HE THOUGHT was his desire for two pieces of French toast and FIVE sausages. When it arrived the next morning it was just two French toast and ONE sausage for him. He was a little upset. So later he went to the Kitchen with an interpreter to find out what had been the miscommunication. Well, Sunil began to laugh . . . he thought Loren had been teasing because he had NEVER had five sausages before. We all had a good laugh. They never forget and if you do it once it is a tradition.

This little guy meets me every evening in the stairwell.
We know Satan is alive and well. There are multiple problems already assaulting our staff. Please keep them and us in your prayers.