The toilet project is progressing nicely. Product is arriving everyday.
The men are working hard to complete the endeavor in 45 days. We will see…. I'm sending a few pictures to show you the progress of the work. So very different than how we would do things in the USA. Loren checks the work several times a day and is pleased with the work.
All the sand has to be shifted before it can be used with the cement. No big cement pumper truck here . . . just one pan full at a time.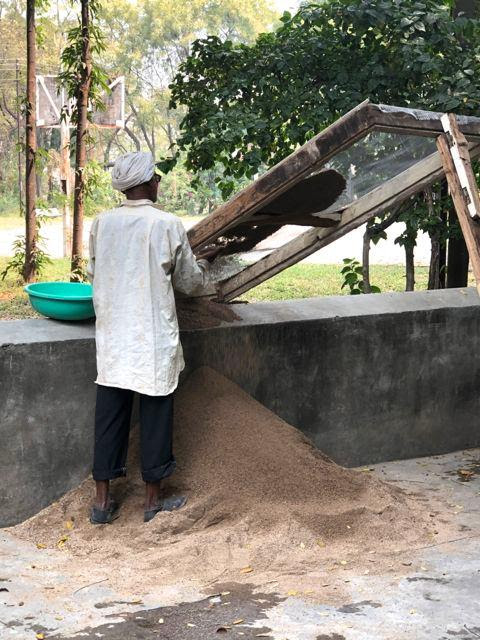 Every old tile is chiseled off by hand. The one tool used is DIRECTLY wired in the 220 plug.. Don't think I would work around water if it wereMe.
They are finding most of the pipes are rusted and leaking. We would have had NO building in a few more years. Old red brick seems to disintegrate with water. It was all that was available when this building was built.
Just when Loren thought we would come in at budget, we had an invasion of the very big Gray Langur monkeys that have always been a problem for Prakash. Well, maybe we should have known, when the property just outside the campus is called Monkey Hill.
This weekend they DESROYED the Trade Center toilets. OH NO!!! Another must do toilet project. Pray that God will stretch the funds.
This was such a hugely needed refurbishing project. Thanks to you all it is becoming a reality. It will make an impact on the students that will be hard to measure. Most of them have never even had inside toilets and bath areas, so just imagine how a nice, clean and fresh smelling area will be for them. 
So . . . do you feel good yet?