It is amazing to me how when you do something once in India it becomes a tradition. That is exactly what Nani's picnic day has become. I love it, so it is not a problem. Their world-view is so small, so I love providing this fun way of education.
A bus was rented and we were off to the Historic Museum for a look-see. I giggled at the sign at the entrance due to how they misuse the English language.

I think they wanted to say No Urinating and no posters glued to their walls . . . a huge issue here. Out in front of the Museum there was a huge number of men drunk and blatantly using drugs. Later, when I asked about it I was told there is a Mosque across the street from the Museum and they give free food everyday at noon.
Because I'm light skinned and light hair I become an object of interest in a city that sees very few Westerners. I let the group waiting for tickets take a ton of selfies with me. Everyone wanted it on his or her phone. Also because it would be at least a two-hour tour I opted for a wheelchair.

There are VERY FEW places to sit inside the museum. I tried to convince the ticket agent that I am half Indian and should only pay 50 rupees instead of the 100-rupee tourist fee. ($1.39) The girls only had to pay 5 rupees. I thought that I would have several girls taking turns to push me, but the first two would not give up their position. They were completely awed that I knew the name of the animal platypus and a coat of mail. "Nani, you are so smart." Also there were several things displayed that I have similar things in my home. Especially things I purchased in 1960's.
Again, we boarded the bus and off to the Narrow Gauge Train Museum and park. Here we enjoyed the picnic lunch the girls had prepared.

At first I though they were getting very little to eat until I saw the HUGE container of chili veggie rice. The amount of this treat that they can eat is astounding.

After lunch we toured the grounds and the train shed where again I was bombarded by those wanting to take pictures with me.
There was a group of little school children in their darling uniforms. One tiny one just stood and stared. I'm sure she was not sure if I was friend or foe. Finally her father, the Headmaster, came and encouraged her to shake hands.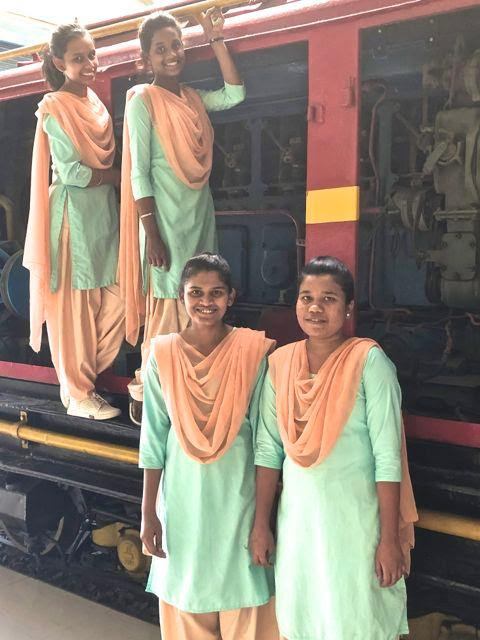 ( RGI Staff)
The girls played games while Nupi and I found a nice place to sit with a fan. It has turned very hot. I gave out prizes for the winners of the games.
The girls will write a composition on their experience and what they thought of the day. At the end of the day, I was glad to see all the smiles but glad to be back to my air-conditioned room and a cup of tea.