There are times when you are so glad you listen to the Holy Spirit's leading. Loren and I were VERY concerned about the diggers and other "day laborers" that had worked for Prakash.As we were discussing this subject, Joy sent me a WhatsApp with a picture of how the military police are confiscating cars and motorcycles if people try to go out of their homes. Loren immediately videoed Joy back and we leaned that the head of the diggers had called him that morning begging for help. More people will die of starvation in India than from Corvid-19.
Here is Moses' report of what happened the next day. "After you have asked us to help the diggers with food, yesterday we went to PBI kitchen and started making packets of food from the student's supply.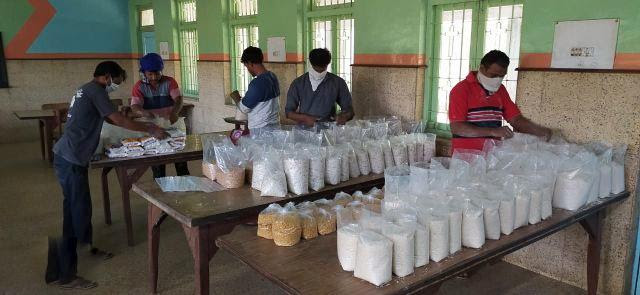 We had gone to the village of diggers that helped us in the construction of Toilet renovation project. It was our first time to see their village. We thought it will be a small village but it was quite a big village. 
We were in constant touch with the leader and two people from this group were waiting for us on the road as we did not know the exact location. 
As we went to the village with grocery packets the leader of this group had called all the diggers at one place and all were very happy that Prakash Institute has come to help them in the time of need. We had twenty packets and according to the list we started giving these packets to the diggers. 
As soon as other people of the village saw us giving food packets they all surrounded us and started asking us for food packets. We tried to explain them but they were to the point of snatching those packets from our hands. Sensing the danger we finished our packet distribution very fast and sat in Bolero and ran out of the village. 
Very sad to see how people are suffering due to lockdown situation. This Pandemic has created panic situation here. Thousands of people stand in a queue in Wadi and other places to receive food in afternoon and evening. Thank God that there are organizations and some individuals in Wadi that are cooking food for needy people everyday. I am bit worried as the lockdown is extended till 17th May. Many NGO's are already exhausted with helping people. 
And as you had said earlier though we cannot change the world with this small help but this will definitely change the world of those whom we could help during this time of need."
 We have always said, "Do for one, what you wish you could do for all."